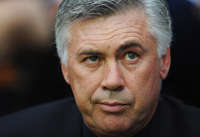 Chelsea manager Carlo Ancelotti will renew his long running friendly rivalry with fellow Italian Roberto Mancini tomorrow as his Chelsea side travel to Eastlands to face big spending Manchester City.
Mancini emerged triumphant when the two teams met last season at Stamford Bridge thanks to a Carlos Tevez double, which inspired City to a 4-2 victory, arguably the Citizens' best performance of the season.
However, Ancelotti's men bounced back from that defeat to claim their first championship after a three year barren spell.
Chelsea have continued that form into this season and are currently setting the pace at the top of the Premier League table, such impressive early form that Mancini has already claimed that they are certain to be champions once again this season.
Whether Mancini's admission is just the latest episode in the various managerial mind games that are common place in today's game is unclear, but Ancelotti doesn't believe his old team-mate is up to the latest round of kidology.
"I think it is not a mind game, I know him very well, for this reason he knows us very well, he knows our ability, and I think that's what he thinks. It is not dangerous for us," Ancelotti said to the club's official website.
The pair have a long running friendship which dates back to their days representing the Italian national side together in the 80s and early 90s, whilst they were rivals when in charge of the two Milan clubs as recently as three years ago.
"We were team mates in the past in the national team, I met him two months ago in Manchester and the relationship is very good", Ancelotti said of his respect for his Manchester City counterpart.
"He is very competitive and he has experience, he has ability to read the game".
Ancelotti, formerly of AC Milan is quick to remind Mancini that he narrowly edges the head to head meetings, and stresses that he is keen to extend that margin tomorrow afternoon.
"Sometimes he won, sometimes I won. 8-7 and three draws, I want to improve my lead."
Despite Ancelotti's narrow advantage in the head to head contests between the pair, Mancini will look back fondly at his sides victory over the champions last season, but Ancelotti claims that his side possess even more confidence now than they did at that point last year.
"[Last year] was the past, it was a difficult moment for us when we lost at home but now is a different story. We have more confidence compared to last year, we are in a good moment and we can do better compared to the last match at Manchester," he said.
In fact, City did the double over Ancelotti's men last season, with former manager Mark Hughes in charge for the 2-1 win at Eastlands.
In both fixtures Carlos Tevez proved to be a pivotal figure in Chelsea's downfall and Ancelotti admits that he is an admirer of the former Manchester United and West Ham front man.
"He is the most dangerous player of Manchester City, he has quality" said Ancelotti.
"He has power and very good mentality. I appreciate his kind of play and we have to pay attention."